---
Joe Quaid, Head Coach
Background: Joe started rowing in 1972 at Father Judge High School in Philadelphia. He has been an Undine member since 1977, served as Undine's assistant coach from 1992-1994, and head coach since 1995.
Coaching highlights (US National Team):
2000, 2001, and 2007 LM4x Coach at World Championships
2003 LW2- National Team Coach (the 2003 LW2- was the first Undine women's crew to compete internationally)
2006 LM2x Coach at World Championships
2015 U23 LM4x World Championships
Coaching highlights (Canadian Henley):
1995, Men's Senior Quad, first place
1999 and 2005, Men's Lightweight Quad, first place
1999, Men's Senior Double, first place
1999 and 2005, Men's Lightweight Double, first place
2001, Men's Championship Single, first place
Rowing highlights:
1974 Men's Youth Eight, Head of the Charles Champions
1986 Men's Double US Sports Festival Bronze Medalist
1988 and 1989 Men's Senior Quad US National Champion
1989 Men's Senior Eight US National Champion
Personal highlights:
Undine men winning 94 medals in national championship competition since 1995 including 37 gold, 30 silver, and 27 bronze medals
Undine athletes winning national championships in the men's intermediate light single for five consecutive years (2000 to 2004)
Undine men's light quad being named club crew of the year in 1999 by the Independent Rowing News
Undine athletes winning elite national championships in the men's double, men's quad, and light men's quad in 1999
Mike Naughton, Assistant Coach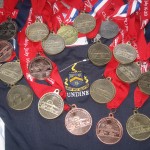 Background: Mike started rowing at La Salle College High School in Wyndmoor, PA. He rowed sweep as an undergraduate student at the University of Miami, and learned to scull at the Lake Merritt Rowing Club while in graduate school at the University of California, Berkeley. Mike competed for Undine for seven years, from 1995-2002.
Since 1995, Mike has worked at Nielsen-Kellerman, manufacturer of rowing electronics.  He is currently Director of Product Management and has been a major contributor to the development of every product since 1999, including the CoxBox, SpeedCoach XL, SpeedCoach GPS, and Interval.
Coaching highlights:
2004 LW2x Coach of 2nd place finishers in Olympic trials, who went on to earn bronze at World Championships
2005 LW4x Coach of Canadian Henley Gold Medalists
2006 US LM2x Coach at Lucerne World Cup
2006 DOM LM1x Coach at World Championships
2006 LW4+ Coach of Head of Charles Champions
2007 US LW1x Coach at U23 World Championships – 2007 LW4+ Coach of Head of Charles Champions
Rowing highlights:
1999 Elite LM4x US Champion
1999 LM4x Canadian Henley Champion
2000 Elite LM2- US Champion
2001 Elite LM2- US Champion
2001 M4x Competitor Princeton World Cup
Personal highlights:
Being named club crew of the year by the Independent Rowing News in 1999.
Winning the LM2- at Elite Nationals in back-to-back years with different pair partners.
The big pile of medals won by our small group of women at Elite and Club Nationals in 2008