---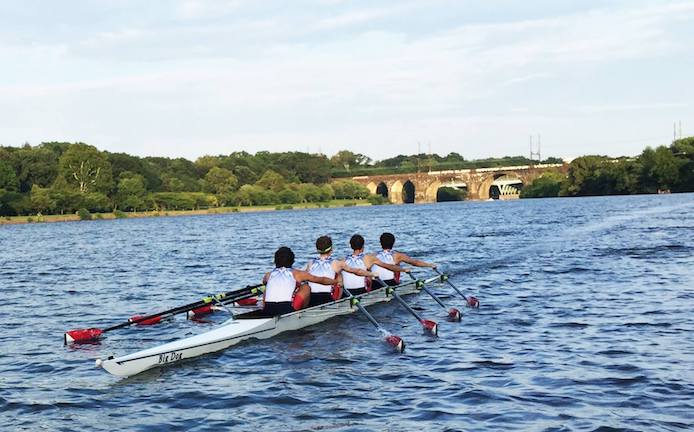 Important U23 Update for Summer 2021
Undine is excited to once again host a men's and women's U23 Program this summer. Due to ongoing Covid-19 restrictions we will be limiting the size of the program and requiring previous sculling experience. If interested, please email Undine1856@gmail.com with "Summer U23" in the subject line.
About
The mission of the Undine Barge Club's U23 Summer Program is to identify and develop highly motivated scullers into nationally competitive athletes through this high intensity program. Our program is intended for serious collegiate/post collegiate athletes looking to gain racing experience and reach their full rowing potential, and will pursue excellence at local, national and international trial events.  It is expected that those who enter the program compete at the Club Nationals and if available the Canadian Henley regatta.

History of U23 Excellence
The Undine U23 Summer Program has had numerous successes in recent years.  In addition to numerous sculling medals at local regattas, recent highlights from national and international events include:
2019 USRowing National Championship – Mens Inter Ltwt 1x (1st place), Mens Inter 4x (1st place), Mens Inter 2x (2nd place), Mens Senior/Elite 4x (2nd place), Mens Senior/Elite Ltwt 4x (2nd place),  Mens Inter Ltwt 2x (3rd place), Mens Inter Ltwt 4x (3rd place), Mens Senior/Elite Ltwt 1x (3rd place)
2018 USRowing Club Nationals – Mens Inter 2x (2nd & 3rd place), Mens Inter Ltwt 1x (2nd Place),  Mens Elite Ltwt 2x (3rd and 4th)
2017 USRowing Club Nationals – Mens Inter 1x (1st place), Mens Inter 2x (2nd place), Mens Elite Ltwt 2x (1st place & 4th place), Mens Elite Ltwt 4x (3rd Place), Mens Inter Ltwt 2x (3rd place)
U23 World Championships (2016 and 2015)

– Undine's Ltwt Mens 4x won at trials and represented the USA at the World Championships

2016 U23 World Championships Trials- Ltwt Mens 4x (1st place), Ltwt Mens 2x (2nd place), and Ltwt Mens 1x (3rd place)

2015 U23 World Championships Trials- Ltwt Mens 4x (1st place)

2015 USRowing Club Nationals- Mens Intermediate Ltwt 4x (2nd place), Mens Intermediate Ltwt 2x (3rd place), and Mens Intermediate Ltwt 1x (3rd place)
The qualities that we seek:
Desire to race and willingness to commit to our U23 sculling program for the summer and race at Club Nationals
Rowing experience (sculling experience is even better);
Current university students or recent alumni, in lightweight and open weight classes.
 What you can expect:
Excellent, attentive and individualized coaching in sculling technique;

Opportunities to race in sculling events at the Schuylkill Navy Regatta, Independence Day Regatta, USRowing Club National Championships, and the Royal Canadian Henley Regatta (selected crews, see Competition Schedule below);

Full membership to Undine, which has a proud history of over 160 years of sculling excellence;

Access to updated equipment and a young fleet of Filippi singles, doubles and quads;

Ability to train in a high performance environment and still maintain a summer job

Improvements to your technical skills by learning to scull and rowing in small boats. The technical improvements will carry over to your college programs and club rowing in the fall.
Training Schedule
There are usually 7 – 10 workouts per week scheduled, and U23 summer program members will be integrated into Undine's full time racing squad practice schedule alongside senior athletes. From June to early August, the coached sessions are Monday, Tuesday, Thursday, and Friday mornings at 6AM, and Saturday mornings at 7AM. All other workouts are generally completed individually or in small self-organized groups (additional coached practices may be added at the discretion of the coaching staff and availability of the athletes).
The morning workouts during the week generally last about 90 minutes, and we try to be off the water around 7:30am – 7:45am to accommodate those who need to get to work.  A full locker room is available after morning practices.  The Saturday morning workouts (on non-racing weekends) are longer, usually 2 – 2.5 hours, mostly technique and long steady-state rows.
Competition Schedule
The following is the competition schedule for the 2020 summer season, with entries depending on proficiency:
Coaching Staff
Undine U23 Summer Program athletes will be coached by Undine's full time coaching staff, who have a history of success with both our full time and summer racing programs. U23 athletes will be incorporated into practice with Undine's full time racing squad.  Head Coach Joe Quaid will serve as the primary coach for the men, with Assistant Coach Mike Naughton. Click here for full bios of our coaching staff.
Program Application and Admission
Application Timeline:
March 20 – Returning rowers must commit
April 3 – Application for new rowers CLOSES
April 15 – Notification of acceptance of new rowers
May 1 – New rowers commitment and deposit due
June 15 – Report (but encouraged to come earlier)
Note:
When accepted $100 deposit is due to hold your spot.
How to apply:
STEP 1: Complete the internal Undine informational questionnaire: Undine 2020 U23 Summer Sculling Program Application
---
What to expect next: We will follow-up to notify you if you have been selected for the program. Invited athletes will become full members of Undine, and we will assist athletes in completing the steps required for Undine's official membership application process.
Program Costs: The program cost is $600. The membership fee includes:
All coaching and race entry fees
Access to club facilities (individual lockers not guaranteed)
Invitation to club-wide membership and social events, such as monthly club dinners (additional cost to participate)
The membership fee does not include:
Summer housing for out of town athletes
Transportation and lodging for out of town regattas (cost varies)

*Disclaimer

: any crews selected to represent the United States at the U23 World Championships in the past have received support from the club through donations and fundraising efforts.
Undine JLRacing unisuit (cost is typically in the $50-80 range)
NOTE: Application to the Undine U23 Summer Program for 2020 does not guarantee admission to the program. You will be contacted by a coach if you have been selected. Admission to the program will be based on the quality and quantity of applicants, and selections will be made at the discretion of the coaching staff. Acceptances/decisions are planned to be sent starting the week of April 15 for new applicants.
For questions and more information, please email coach Joe Quaid (quaidjp@msn.com).