The History of the Glass Mug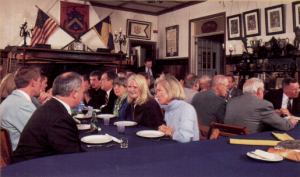 James Hamil, who was by trade a glass blower in Pittsburg, forsook his business and took to rowing boat-races as a money making scheme, in which he became quite successful, and looked and dressed like a "sport."  Upon a professional visit to Pittsburg he went to the Glass Factory to see his old chums and companions, when he found himself treated as a dude and evidently despised as a duffer.  To convince them that he was still "one of them" and still skilled in his old trade, he threw off his coat, took a blowpipe, dipped it into the molten glass and blew the Mug now in possession of the Club.  Then, having sent for a keg of beer, he passed it around among his fellows who received it with cheers and great applause.
The Mug he afterwards gave to President Chas. Dezin for courtesies shown to him by Mr. Dezin and the Club during his stay in Philadelphia a short time previous to his professional races on the Schuylkill.  It was never formally presented to the Club; Mr. Dezin brought it out to the Boat House one afternoon in the spring of 1866 (the exact date not known) when a large number of members were present.  They sent a boat across the river to Lipp's Brewery and purchased a keg of beer, filled the Mug, and passing it around to each one, they decided that hereafter the member rowing the greatest number of miles in any one year should hold the Mug for the year following.